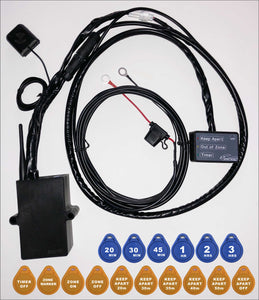 The BoatBuddy is a revolutionary new system designed to make boat operations easier and safer than ever before, with no monthly fee. BoatBuddy is ideal for rental operations that rent out both boats and Jetskis. Easy to install and simply needs to be connected to the boat battery, the BoatBuddy will be on when your boat engine starts and auto-shut off 1 hour after engine shuts off to prevent battery drain. 

The patented BoatBuddy has these main features:
1) Avoid crashes and accidents by constantly monitoring the distance between your boats and jetskis. If they are too close to each other, the system will alert the user with a warning LED and a buzzer alert. 
2) Allows you to set up an operation area where your watercraft will operate by scanning a location tag and then riding around an area to establish a parameter, which will be stored by the system. If any of your watercraft leave the established area, the user will be alerted with a warning LED and a buzzer alert. 
3) Before every rental, simply scan a time tag that tells the system how many minutes the rental is for. The system will begin alerting the user that their time is almost up in the last 5 minutes. Should the user exceed their time limit, they will receive a warning from an LED and a buzzer alert. 
4) Each individual function (Collision Prevention, Geofencing and Timer) can be easily turned on or off by scanning a tag, which allows for maximum flexibility to accommodate occasions like free rides.
5) The distance at which the collision prevention starts can be easily adjusted by scanning a tag to suit different conditions.
The BoatBuddy limits the chances of your customers being in a situation that could result in fines, injuries, or property damage. Best of all, there is no monthly fee required to used this product!
Have any questions about how BoatBuddy will work with your fleet? Email us at info@jetskibuddy.com.