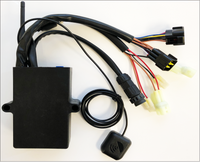 How does it work?
The JetskiBuddy is a revolutionary new system designed to make jet ski operations easier and safer than ever before, with no monthly fee.
The patented JetskiBuddy has these main features:
1) Avoid crashes and accidents by constantly monitoring the distance between your jetskis. If jetskis are too close to each other, the system will alert the user and slows down and limits speed. The system will resume normal controls once the jetskis are a safe distance apart. 
2) Allows you to set up an operation area where your watercraft will operate by scanning a location tag and then riding around an area to establish a parameter, which will be stored by the system. If any of your jetskis leave the established area, the user will be alerted and their speed will be limited until they are back in the established area.
3) Before every rental, simply scan a time tag that tells the system how many minutes the rental is for. The system will begin alerting the user that their time is almost up in the last 5 minutes. Should the user exceed their time limit, their speed will be limited so that they are forced to come back. 
4) Each individual function (Collision Prevention, Geofencing and Timer) can be easily turned on or off by scanning a tag, which allows for maximum flexibility to accommodate occasions like free jetski rides or jetski tours/safaris. One set of tags can be used for all your jetskis equipped with JetskiBuddy.
Keeping only the Collision prevention function on with Geofence and Timer off is ideal for friends and family riders.
Turning off Collision Prevention on the jetski tour guide's machine allows the guide to quickly get to riders at full speed, while rider jetskis will still recognize the guide's jetski and will have their speed cut off if they don't keep apart from the guide or other riders.
5) The distance at which the collision prevention starts can be easily adjusted by scanning a tag to suit different conditions.
6) The dial switch (colored blue on top of the main JetskiBuddy unit) allows users to change the cut off speed to suit different conditions to ensure optimal operation.
7) Time and function tags are universally compatible with all JetskiBuddy units, so one set of tags will work for your entire fleet (Each unit comes with a full set of tags, so there's enough for every member of your team).
FCC ID: 2AYZP-JETSKIBUDDY